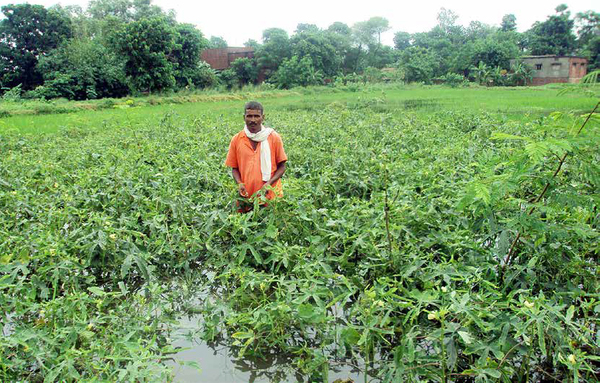 Urban flooding seems to be a recurrent event in the country, whether it is Mumbai, Guwahati, Srinagar or Chennai. We seem to be in a permanent fire fighting mode, waking up to every crisis only when it hits us hard and strong. Till then, we turn a lazy,blind eye to haphazard urbanisation, illegal encroachments, guzzling of water bodies by realtors and poor urban planning happening all around us. We lose lives, livelihoods, property, food production & so much more to this calamity. And climate change adds a new dimension to this growing cacophony. Can we reduce the impact of urban flooding, where we act well in time, rather than simply reacting after the disaster occurs?
Here is the story of how Gorakhpur farmers began periurban agriculture, to be both food and flood efficient...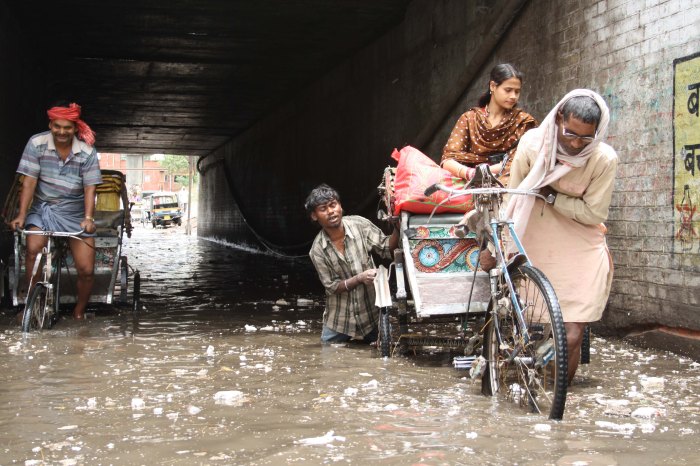 Flooding: A common phenomenon
Gorakhpur, a secondary city located at the confluence of the Rapti and Rohin rivers in eastern Uttar Pradesh, is one of the fastest-growing cities in the mid-Gangetic plains. Here flooding is a common phenomenon, with the periurban areas prone to recurring floods and waterlogging. Caught between floods & water logging, loss of agricultural land & rapid urbanisation, the small and marginal farmers suffered.
Was there a way to ensure local food supply, as well as maintain open areas to serve as flood buffers? The Gorakhpur Environmental Action Group (GEAG) definitely thought so. They devised a simple strategy: Strengthen livelihoods based on periurban agriculture. The aim was twofold: Reduce risks & vulnerabilities of the poor dependent on peri urban agriculture and also that of the city's population affected by flooding.
Farming at the city outskirts keeps areas that are vulnerable to flooding free from construction, and also ensures that the lands maintain their natural function of enhancing water storage and infiltration, thus reducing run off. Thus the capacity of the urban poor to cope with flood impact improves, as does their available sources of food & income. Other important outcomes include nutritional security, reduced energy footprint, improved income opportunities, local biodiversity preservation and recycling of urban waste.
Farmers lose out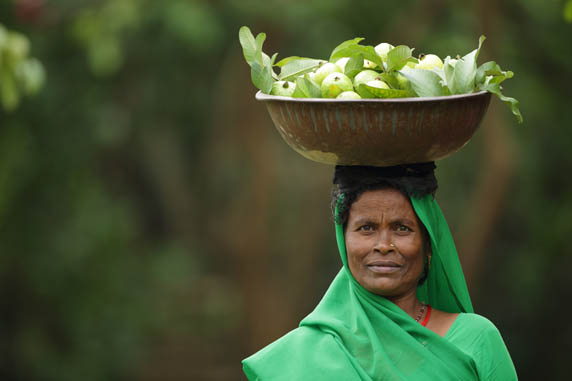 Small farmers: Socially & economically vulnerable
Small and marginal farmers are both socially and economically vulnerable. Floods and waterlogging result in decreased soil fertility and increased incidence of pests & diseases in the crops which severely impacts their food security. Periurban areas have also become the city's waste & sewage dumping grounds, leading to health problems, deterioration of soil quality & contamination of groundwater. Increased cost of agricultural inputs makes agriculture almost unaffordable for these farmers whose net gains are very low. Also, these farmers do not have access to agricultural schemes directed at rural farmers, nor are they eligible for government subsidies on agricultural inputs, and neither do they have access to extension services. Loss of land for non agricultural purpose, also leads to distressed migration.
Out of the box ideas to deal with flooding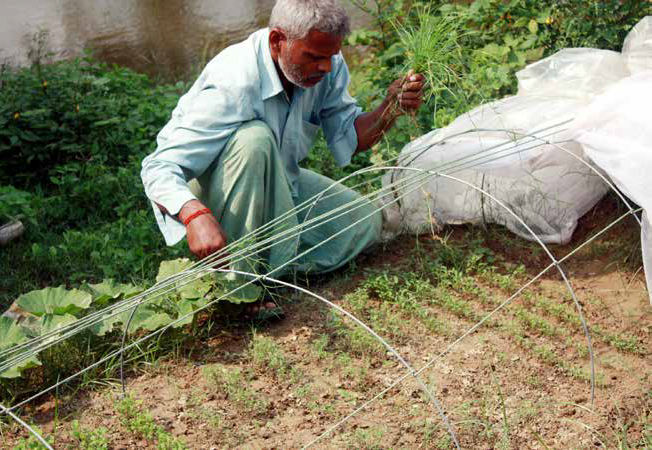 Low Tunnel Polyhouse preparation
The interventions were many. They included climate-resilient agriculture, a type of farming based on the principle of integrating household, livestock and agriculture, and seeks to enhance diversity and recycling in the farming systems; Integrated & diversified farming systems which means increasing the number and performance of functions; Time and space management that includes altering the timing of cropping cycles & sowing varieties that can withstand water inundation; Loft farming where farmers fill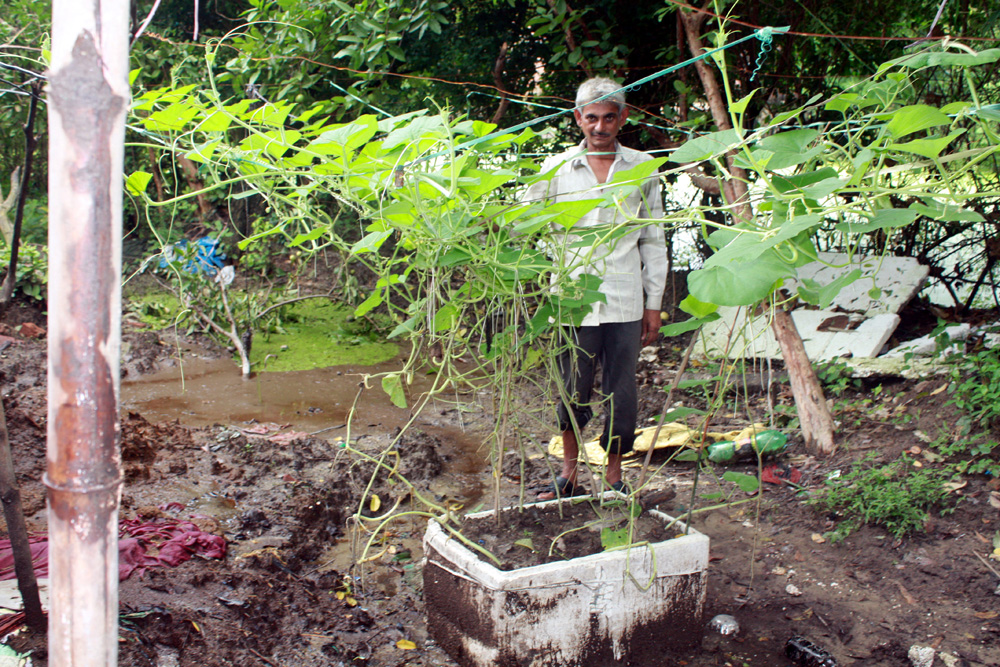 Innovative thinking: Farming in a thermocol box
old tyres or sacks with soil and manure and plant seeds of climber vegetable crops thus saving the produce from spoiling in
the waterlogged fields; Raised low tunnel poly-houses for growing seedlings; Climber crops where they use support for creeping vegetables to climb up; Flood-resilient crop varieties that grow in flood and waterlogged conditions; Climate information advice that provide farmers with advance weather information; Promoting Low External Input Sustainable Agriculture (LEISA) which reduces the use of high-cost external inputs such as chemical pesticides and fertilisers, thereby increasing the net gains.
Lessons learned
Outcomes were seen at various levels, and it was felt that periurban agriculture should be undertaken by the entire community, as only then will its impacts be felt and sustainability achieved. Government schemes should be formulated in such a way that they encourage it's at the community level, since the problems that farmers face are not individual but affect the whole community. Conservation of periurban villages is essential, not only for providing a low-cost supply of food to the urban market, but can also be developed for the services it provides to urban areas and also for agro-based industries, such as seed production, processing of dairy products and meat, tanneries, laundry services, carpentry, etc.
The experiences generated from this initiative will be used to develop and implement a policy framework. Apart from promoting LEISA techniques and other farm practices as ways of adapting to flood situations, the focus will also be on organising communities so that they can compete in markets. Through advocacy initiatives with city authorities, efforts will be made to implement regulatory frameworks that preserve periurban agricultural space and discourage change in land-use patterns. Lastly, experiences will be disseminated and shared in other areas with potential for periurban agriculture.
This article was first published by the Urban Agriculture Magazine, and has been republished here in partnership with them.