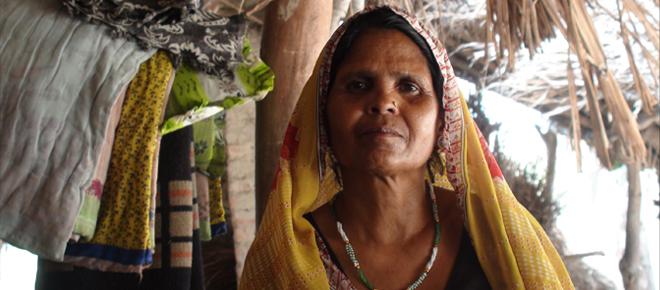 "I just wanted to survive and feed my family, but eventually realised that everyone was against me in our village", 56-year-old Lalla Devi from Ramanathpurwa village in Sultanpur, Uttar Pradesh was facing the double edged sword of starvation and social boycott.
Lalla, a Dalit owns just a one acre plot of land. Her husband, now deceased, had migrated to Mumbai to work at a cold storage godown. He sent a small amount of money home to Lalla, but it was insufficient to feed the family. "I did not have a choice. I had to feed my children, and that is why I started growing vegetables, on my one acre, just enough for us to eat", Lalla recalls. She tilled her land at night so that no one would see her, as women in her village are prohibited from using a plough.
Her community believes that a woman who works the land angers God and drought and starvation follows. Word reached community elders that Lalla had used a plough to till her land and all hell broke loose. Angry villagers, supported by her in-laws called for a Panchayat meeting.
Luckily there were no witnesses to the ploughing and Lalla escaped conviction. Seeking revenge, a group later accused Lalla of theft and attempted to set her home ablaze. She managed to escape with her children.
Lalla found help and support from Oxfam's AAROH campaign, initiated with our partner NGO Gorakhpur Environmental Action Group (GEAG).Today Lalla and ten other women of her Dalit community freely plough their own land.
These women are now aware of their rights as farmers and are empowered to make decisions related to their land. Apart from growing vegetables for household consumption, Lalla now uses shared land to cultivate grain to earn additional revenue. AAROH was launched in 2006, to empower women farmers. With the motto "Mahila Bhi Kisan Hai (women are farmers too), the campaign works at the grassroots levels to educate women of their rights, land quality and available resources. AAROH has worked with more than 7200 women farmers in 345 villages across 70 districts of Uttar Pradesh.
This article was first published by Oxfam, India, and has been republished here in partnership with them.