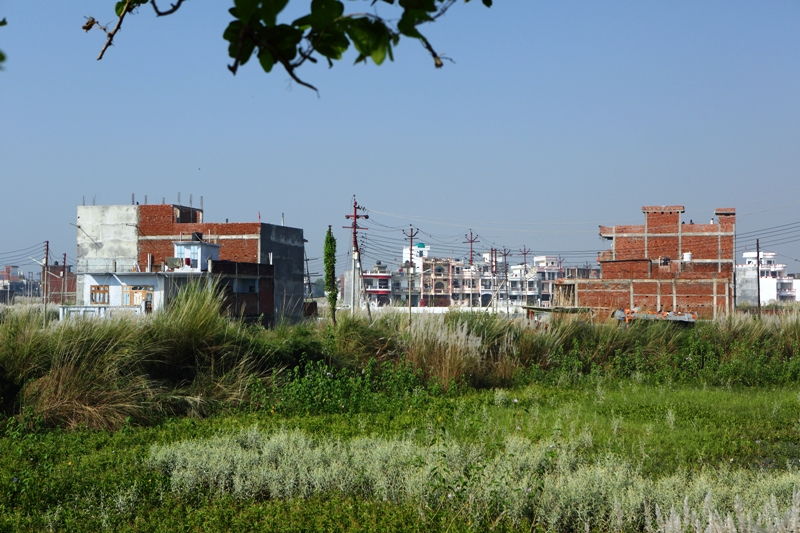 Cities are expanding mercilessly, engulfing open fields, flood plains and water bodies that lie unsuspecting on its outer fringes. In a rush to cater to the exploding population, both resident and migrated, these cities are changing a versatile, self sufficient landscape into a depleted, degraded zone. These transition spaces, known as peri-urban area, are at a crossroad, caught between the development furore and a decaying or destroyed ecosystem.
Here, we look at these growing cities across the country, to see how urbanisation has brought in drastic changes in both the topography and adaptability of these peri-urban areas.
Jorhat, Assam
A fast growing town, Jorhat lies on the banks of two tributaries of the mighty river Brahmaputra. Prone to recurrent flooding and water logging, the situation in the peri-urban areas is projected to worsen, with the advent of climate change related extreme and short spells of rainfall.
Between 1962 and 2005, the land use pattern has shifted drastically, and open areas and water bodies have both disappeared with alarming frequency. The vacant land has reduced by more than 50%, area under parks and playgrounds by nearly 8%, while the land area under roads and railways increased by more than 45%.
Needless to say, this jump in the covered area has reduced the capacity of the land to absorb water, increasing the surface water to flow faster, and accumulate in the low lying areas, resulting in prolonged bouts of waterlogging.
10-15 years ago, more than 60% houses had a resident water body in their premises. High land value, urbanisation pressure and climate change has slashed this number by more than half. Locally available bamboo used for houses construction earlier, has been replaced with cement to create RCC structures. Forests have been lost and orchards cut. Rain fed farming is practised, but with no irrigation facilities or integrated market available in the peri-urban areas.
Change in land use patterns, shrinking ecosystems and low income from agriculture is aiding distressed sale of land. GEAG is working with these peri-urban farmers to learn techniques of low external inputs and climate resilient agriculture, integrated farming that incorporates horticulture, fisheries etc. Growing high value crops and also increasing crop diversity, too is being encouraged for farming to turn more sustainable for the farmers.
Basirhat, West Bengal
On the border with Bangladesh, peri-urban areas of North 24-Parganas are on the fast track to urbanisation. An additional issue of a huge migration influx has deteriorated the existing ecosystems services here with 5-8% of agricultural land conversion to residential dwellings in the last one decade. Rampant encroachment has gobbled up the water bodies, and 30% ponds are now contaminated due to hybrid fish rearing. Drinking water, hygiene and sanitation issues now plague the poor.
Earlier local varieties of fish were bred, but due to better commercial viability, catfish, which usually is reared in dirty water, is more prevalent, adding to the contamination of groundwater and the environment.
Saharsa, Bihar
Situated in the northern part of the country, it is a flat, alluvial plane in the Kosi river basin. Facing the brunt of floods, nearly every year, the changing river has lead to high soil erosion in the area.
For the poor it is easier to settle in the flood afflicted, low lying areas, more so in the piece of land between the river and its embankment. Open areas are being build over, and encroachments on the existing natural ecosystem is widespread. The existence of nearly 125 brick kilns in the peri-urban area is a critical factor leading to top soil degradation and erosion.
To counter these effects, stress is being laid on the promotion of peri-urban agriculture, conservation of open spaces and water bodies, both to improve the livelihoods of the farmers and improve the resilience of the city itself.
Gorakhpur, Uttar Pradesh
Gorakhpur city in eastern Uttar Pradesh lies in bowl shaped topography, in the lower riparian area of river Rohini. Already susceptible to recurring floods and waterlogging, episodes of extreme, short burst of rainfall are expected to increase this vulnerability.
Its peri-urban area already faces this challenge. Prone to floods and waterlogging for nearly 2-3 months every year, the small and marginal farmers face the threat of crop losses, and a sustainable livelihood. Changing land use patterns, increasing cost of agriculture and a degraded environment thanks to an unmindful dumping of sewage and waste, is adding to the problems faced by the farmers.
The western peri-urban area, more than 8000 ha of land, is prone to floods. Between 2002 and 2015, nearly one third of these flood plains, a no construction zone, have been converted into built up area. The city is moving rapidly towards the north, north-east, east and south-eastern peripheral area, that is free from waterlogging and flood. And the agricultural land in this direction is taking the fall for the construction boom here, rapidly being converted into residential areas, exacerbating an already delicate situation.
Why it matters
Cities fail to understand that these very peri-urban areas and their ecosystems are a store house of resources, act as a buffer to floods and droughts, and help build up capacities; all of which help reduce the vulnerability of any city. And so, for a resilient and sustainable development of any city or urban area, the focus must be on peri-urban ecosystems and their resilience.
This blog is based on an excerpt from 'Urban Resilience and Sustainability through Peri-Urban Ecosystems: Integrating Climate Change Adaptation and Disaster Risk Reduction', a Process Guidance and Training Handbook, published by the Gorakhpur Environmental Action Group (GEAG), supported under the ACCCRN initiative of The Rockefeller Foundation.