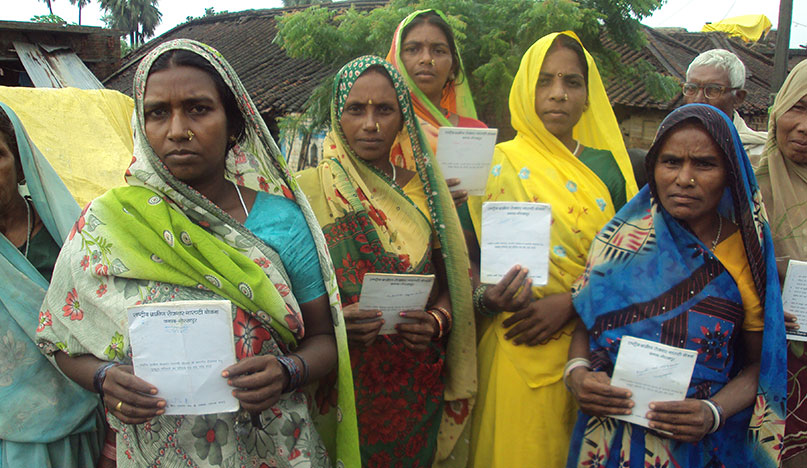 GEAG's field interventions in eastern Uttar Pradesh have immensely strengthened the struggles of poor women, especially small and marginal women farmers. A three-pronged strategy is adopted in the field interventions involving social mobilization through the development of Self-Help Groups (SHG), village to state-level struggle units and village level federations bringing both the units together, sustainable agriculture interventions (techniques, marketing and service centres) and micro-savings and -credit programmes.
Ramrati, a 50-year-old woman farmer of Sarpatha near Campierganj of Gorakhpur emerged as a ray of hope for other small and marginal women farmers after getting trainings by GEAG on organic farming and managing savings and credits through SHGs. With innovative organic farming techniques, she has defeated the giants of paucity and poverty and won the coveted "Woman Exemplar Award" by Confederation of Indian Industry (CII) and HSBC in 2011. At her trainings, Ramrati learned about organic and sustainable farming practices, such as the use of organic pesticides made of cow dung and garlic, self- restored seeds, multi-layered and inter-cropping farming techniques. Ramrati was able to turn this knowledge into practice in her own life, and she could save Rs 50,000/- per year with more than 32 crops. She has trained and motivated several other farmers of her village on organic farming.
Ramrati says–"Now we earn profit more than 100 % from the yesteryears. We have also made a group of 20 women and deposit Rs 20 per month. This practice has strengthened us financially. I wish to work for agro-based cottage industry".